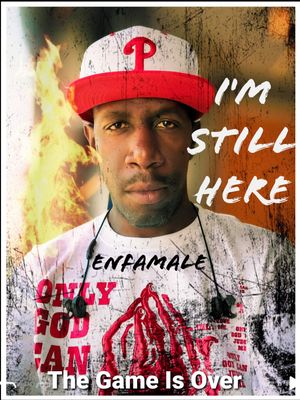 The ENFAMALE is an hiphop MC who was born and raised around DJ's and music lovers. He started out in his early years of life walking the streets of Federalsburg, MD with his big brothers carrying a radio everywhere they went.
As time moved on his brothers taught him how to DJ and spin records. In the 80's he wanted to be like his brothers and others who was rapping, so he would take a radio and listen over and over at the lyrics until he could say them.
Around the late 90's ENFAMALE and a few guys in high school started rapping everday at lunch and one guy name Jazz told him he needed a rap name so Jazz said in a joking manner. "Your name should be Infamale", so  ENFAMALE took the name home and thought about it and said if I have a name it should mean something so he took the name changed the "I" to and "E" and made it stand for EVERY-NIGGA-FOR-ADVANCIN-the-MALE. (2020 version EVERY-NEED-FOR-ADVANCING) With "male" standing for MONORITIES-ALWAYS-LOVE-EACHOTHER.
At the end of 98' early 99 ENFAMALE met producer Blackrose and friend Andre Dickerson who were into hiphop/rap music, and they helped him get things moving towards recording. In that same year ENFAMALE gave his life to Christ and started using his lyrics as a tool to help bring positive change to people lives.
In 2000-2001 ENFAMALE met Ron D West a producer/singer who helped him with digital recording and internet, and appeared on the WestCal Records Compilation album.
In the year 2001-2002 ENFAMALE had a song called "King Of The Kings" go #24 on the national MP3.com hiphop charts competing with the major label artists. In the same year he completed an album called "Da Watchman", but nevered released it until 2009.
ENFAMALE was blessed to work with others and create a group called the T.H.U.G.R.I.D.A.H.S. which stands for THE-HIGHEST-UNDER-GOD-RESSURECTED-INDIVIDUALS-DEFEATIN-ALL-HOOD-SOLDIERS. (Drake Ortega aka Mr. Gospel Gritty, D.O. of the Bride Dressed In Black, Vic-C an unsigned artist, and 2 guys down south.https://soundcloud.com/enfamale    They did various venues together and music, but at the current time all members are doing different things or gone separate ways, but its far from dead because GOD told him he'll bring it back when its time, and right members involved.  He also worked with cats from Rock Da Truth Records.
ENFAMALE can be an MC who can be controversial, and believe in saying whatever he believes GOD spoke to him to say or put down, and that causes problems sometimes for those with their opinions. His name alone can cause controversy, because of the meaning having the word-NIGGA- in it, which ENFAMALE made stand for -NEVER-INSULT-GOD'S-GOODNESS-ABOVE (N.I.G.G.A.). But his intent is always to help a man/woman. Not tear them down. He wants to lift them back up to the position GOD would want all men at. So he uses whatever GOD gives him to do that task.
Now the ENFAMALE is part owner of a record company name "Finally Made It Records" with his wife Crystal Lofland. He plans on releasing all his albums which holds about 155 songs at the time and still counting. He is also looking for others to produce and put out once he's finished with his business.
Be on the look out for the ENFAMALE. He can deliver hardcore lyrics that can touch the toughest of them, or he can deliver a soft message that would touch the very inside of a little old lady.
ENFAMALE is one of those guys who have been stepped on an wrote off by many, but he's also persistent, and smiles at those folks who have crossed him, because he knows his true valve and worth unlike them who pushed him back. Many said he wouldn't make it, or says he's stagnet, but he already knows thats just his enemy Satan talking through them.
At the time he is working on a new project for the label and doing a home ministry with his wife, and family.  http://www.reverbnation.com/enfamale  Also check out some of his production beats at http://www.soundclick.com/enfabeats
We hope you would enjoy him and be blessed by knowing him or hearing his music.